Employee of the Month
CIS care for and value the needs of our people.
Our people are as important to us as our clients and we are committed to recognising the excellence we encounter both through client feedback and our own experience. The people who appear below have all demonstrated a level of dedication and commitment that has exceeded the expectations of us and our client.
April 2014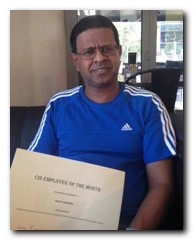 CIS Staff Member of the Month
Awarded to:
Hilary Egerton

Title:
Technical Support Specialist

Client Site:
Adidas

Awarded for:
Excellent and dynamic performance across all projects, internal corporate and external store support services.